ABOUT MARGARET
Margaret Townsend has spent over 20 years contributing to life by teaching various body-oriented holistic health modalities.
In the late 1970s she began teaching fitness, aerobics, and dance in Southern California. In 1981 she was transferred to New York City to help open Body Design by Gilda aerobic studios. Through the following years, Margaret performed with the Sharon Fogarty Theater Dance company and continued her education and teaching in dance movement and yoga with certifications in Reiki and Shiatsu Massage.
In 1987, Margaret had a profound experience of knowing herself beyond the fear she had had throughout her life in her first breathwork session and was compelled to continue a personal exploration in this process for the next five years and in 1993 was certified as a TransformBreathing Facilitator, now called Full Wave Breathing. In 1995 she became a trainer for the International Breath Institute.
Her training in Qi Gong, Non-Violent Communication and Hakomi body-centered psychotherapy is also incorporated in her work.
For the last 16 years Margaret has given classes and workshops and has had a private clientele in New York City, Boston, Chicago, New Hampshire, Boulder, Colorado, Southern California, and Portland, Oregon.
She currently lives in Lake Oswego, Oregon, and continues to give introductory and support classes, workshops, and retreats. All of these programs are focused on conscious breathing and being, living more fully in the present moment.
"My calling to hold space with and facilitate others to experience present moment Aliveness that is ALWAYS HERE is an honor and the best way I can possibly imagine to spend my time in life. I am grateful."
Other Links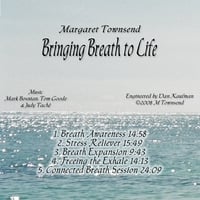 Bringing Breath To Life CD and MP3
"My deepest love and gratitude to Tom Goode, Caron Goode and Judy Kravitz for introducing me to the world of breathwork and personal transformation, and for each guiding me with such loving Presence and being 'Life saving' Teachers."